Most people think about eating a healthy diet and upping their exercise when deciding to start a weight loss program. For many it begins with a concern for improving their overall health. But weight loss involves more than just eating healthy and increasing physical activity. A person's mental state also influences whether or not weight loss is achieved.
Negative Self Talk
Examples of negative thinking that threaten to torpedo success are:
Shame that leads to self-criticism. Combat this with self-kindness and concentrate on those things you do well.
Impatience when things do not happen immediately. Reflect on how much you have achieved instead of how far you still have to go!
An inability to visualize success. Write down small doable goals that you can achieve each week. Record the results. Celebrate your successes.
Fear of failure. Don't let negativity eat away at your success. Make sure to keep positive people around you who know your struggles and goals.
How to Work Through Negative Self Talk
Make note of your negative thoughts and write them down so that they are not just rumbling around in your head. This helps to demystify unproductive self-talk. If you find yourself slipping into these patterns it is okay to talk to yourself and say "STOP." Recognize that negative thinking gets in the way of your success.
Positive Self Talk Helps!
Positive self-talk involves keeping your inner conversation constructive and hopeful, even if things may not be at their best in your daily life. People who have a positive inner conversation enjoy better performance in their everyday activities and have better physical and mental health. When negative thoughts arise, realize that most issues are temporary. Also analyze what problems are causing you concern. You are NOT defined by a difficult relationship or by issues that occur at work. Remember that everybody encounters problems in their personal lives. If we are honest, most of us experience self-doubt now and then. Give yourself some grace and embrace your humanity!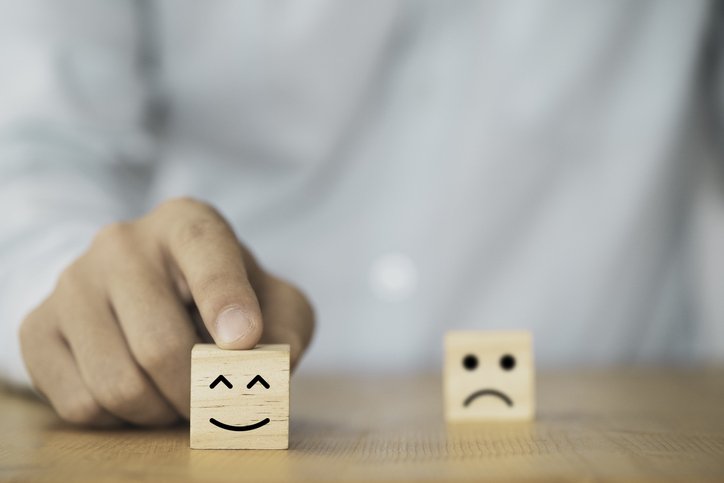 Change Your Outlook, Change Your Outcome
Being overweight or obese is a serious health problem with increased rates of morbidity leading to greater health care costs. You can see why self-regulation, action planning, developing self-efficacy, autonomy, and motivation are critical. These important steps are undermined by self-criticism linked to shame and negative self-thinking. Overweight people frequently experience social stigma due to their appearance. These experiences become internalized and are linked to overeating. Such behavior calls for professionals to develop strategies for helping the dieter to actively stimulate self-reassurance and well-being, not just focus on trying to reduce self-criticism. Changing your inner conversation to a "can-do attitude" can change your life!
Profile MD Does Medical Weight Loss Right
Our health professionals at Profile MD use a scientific and behavioral approach to weight loss. It encompasses hands-on accountability, careful attention to your medical needs, and a customized approach to your likes and dislikes. We are here to cheer your success. To find out more call 410-544-4600 for a FREE initial consultation. You can DO it! 
-Written by Kathleen VanAntwerp-Marketing Communications/Profile MD